This is another Fluoroscan Premier/Encore that Metropolis installed.
This was a second such system purchased by a private physician in Maryland.
The customer liked the first system that he ended up purchasing a second unit.
This was an old, CRT based system that Metropolis upgraded and refurbished with modern technology.
It makes these systems relevant for another decade.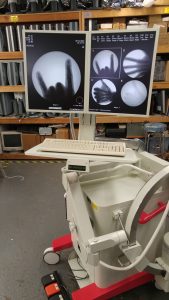 Fluoroscan Premier * 2002
* Digital * Dual Monitors * Dual 6"/4" Image Intensifier * 2,000 Image Storage * LIH-Last Image Hold * Patient Key-Pad Entry * Contrast Expansion * Automatic Edge Enhancement * Frame Averaging * Y3K Compliant *